Customizable modules

Relationships between Modules

Calculated Fields

Drop-down lists and Date type fields

Custom CRM menu

Page Templates

Quick Creation Forms

Document Templates

Filtered Views and Data Segmentation

Access to Features

Security Profiles and Data Sharing Rules

Customizing your Environment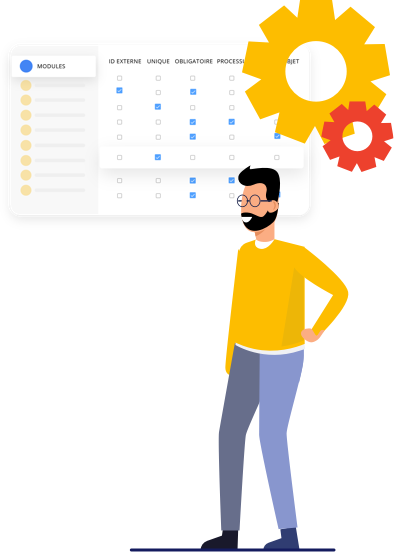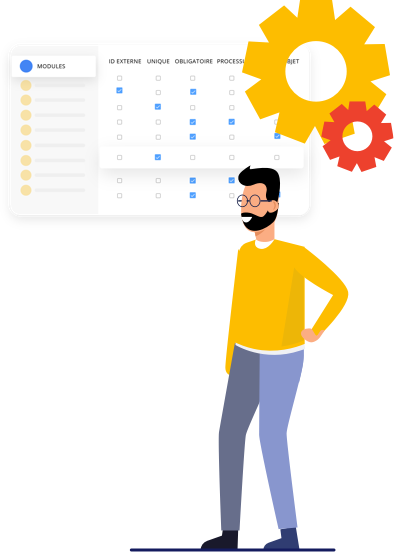 Customizable modules

Relationships between Modules

Calculated Fields

Drop-down lists and Date type fields

Custom CRM menu

Page Templates

Quick creation forms

Document Templates

Custom Views and Filters

Access to Functionalities

Access and Sharing of data

Personalization of the Organization
Not less than 15 modules are offered as standard by Cirrus Shield, thus, because the success of a CRM depends on its adaptation to your process, Cirrus Shield offers a set of simple and effective configuration tools. Modify existing modules or create new ones, adapt the fields of your modules and the layout of the screens, customize the quick creation forms, filtered views, document templates, … Cirrus Shield is fully customizable to the mouse.
Custom modules
Cirrus Shield modules allow you to manage your different processes: Leads, Contacts, Accounts, Tasks, Activities… all these modules are fully configurable. Customize the names of these modules and their properties such as the process associated with them, the date field when applicable, the field that defines their uniqueness, and even the icon that represents it. And if you need to add modules, nothing could be simpler; it is done in a few clicks.
Relationships between Modules
The modules can be linked together with relationship type fields such as the account field of a contact, which allows a contact to be linked to a company. Cirrus Shield offers simple relationships or multiple relationship fields: the account field of the contact module can point to a company module or to another partner module for example.
Calculated Fields
Cirrus Shield offers two types of calculated fields: formula type fields that you can easily create with the formula creation wizard, for example the sum of two fields, and cumulative fields that allow you to aggregate data from a module on a parent module, for example the total invoiced on an account at the level of the account record.
Drop-down lists and Date Type Fields
You can configure drop-down list type fields with your choice of values ​​on your modules. The drop-down list fields can be single-choice or multiple-choice. Date or date / time type fields are also available with the possibility of defining a field as being the date field of the object which will be used in particular in the route views.
Other Types of Custom Fields
With more than 18 types of custom fields, Cirrus Shield allows you to customize your environment as closely as possible to your needs, types of fields such as the following are available: email, phone, text, rating icon …
Custom Tabs and Applications
In Cirrus Shield, the tabs can display data from a module or an external application, allowing you to integrate your business applications within Cirrus Shield for a smooth and seamless user experience. The tabs can be grouped into different applications, each with specific access rights. Thus, you can create an HR application only accessible to certain users and another CRM application only accessible to your sales teams.
Page Templates
The layout of your CRM screens can be configured by simply dragging and dropping, so you define the list and order of fields to display, whether within the page or in tabs.
Quick Creation Forms
Quick Create Forms are available in the app to let you quickly create records without leaving your working screen, keeping you in the same stream of thought. The fields of these forms can be configured for each module so that you can define the fields that are most important to you.
Document Templates
Cirrus Shield allows you to create document templates with merge fields. This is the case for instance for quotes and invoices but not only, our customers use this functionality to generate training certificates, kitchen bonds sheets, or even to make contracts. The models are to be produced in Word format with merge fields. The document generated in Cirrus Shield and completes the merge fields with the data from your CRM.
Filtered Views and Data Segmentation
Cirrus Shield's filtered views allow you to view a segment of your data defined according to your criteria. You can create as many filtered views as you desire in order to focus on a specific dataset. Define filtering criteria on all the data of the module or associated modules, then select the columns to display and the format of the graph. Cirrus Shield filtered views have 5 display formats: list, map, large map, KANBAN or calendar.
Security Profiles and Data Sharing Rules
Each Cirrus Shield user is linked to a profile and a hierarchical position. Profiles allow you to customize the rights of your users: data creation rights, export rights, rights to create filtered views, read / write / delete rights per module … and the positions allow you to limit the access to data by establishing a hierarchy in which any user can see his data as well as the data of people below him in the hierarchy. Cirrus Shield also allows you to create groups to manage matrix organizations, where members of a group can share data regardless of their location.
Customizing your Environment
You have the possibility to personalize your Cirrus Shield environment by adding your logo, defining the currency, the language, the main time zone as well as the security rules. You can also configure the graphic charter of the user interface by importing your own CSS file: colors, font, …
Customized pricing
Select the edition that best suits your needs. Cirrus Shield updates with new features rolled out regularly as well as support are included in all editions.
STARTER
25€HT/month
+ 25€ per additional user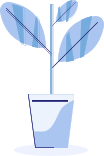 PREMIUM
50€HT/month
+ 50€ per additional user
Customized pricing
Select the edition that best suits your needs. Cirrus Shield updates with new features rolled out regularly as well as support are included in all editions.
STARTER
25€HT/month
+ 25€ per additional user
PREMIUM
50€HT/month
+ 50€ per additional user